Overview of Rare Disease Day 2015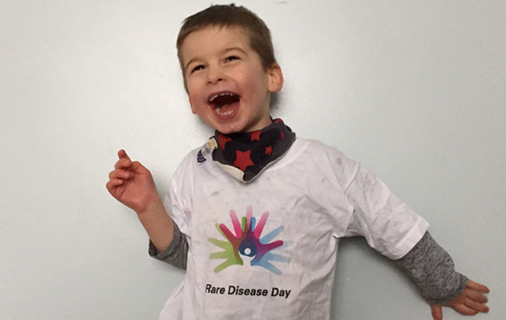 In 2015, and every year, Rare Disease Day was led by patient organisations and those living with a rare disease, all helping to raise awareness for the cause on an international scale. All rare disease stakeholders, including policy makers and medical professionals, participated to help make it one of the most successful Rare Disease Day campaigns to date!
Thanks to your efforts, we conveyed a common message and extended our network in order to help improve the lives of people living with a rare disease, and their families.
RARE DISEASE DAY 2015 OFFICIAL VIDEO
The official Rare Disease Day video was the most successful to date with over 1.5 million views on Facebook! Thank you to the tens of thousands of people who shared the video across 27 languages.
Patient organisations around the world held an array of events: from symposiums and debates, to fun days for children, through marches, media conferences, exhibitions and concerts … people like you came up with all kinds of new ways of building awareness locally.
Events across the world:
Events were held by patient organisations in over 80 countries and regions: in all 28 EU countries, North and South America, Africa, Asia and Australia!
Welcome to the new countries! Patient organisations in Bolivia, Estonia and Madagascar all participated in Rare Disease Day for the first time this year!
Details of over 650 events held by patient organisations and medical professionals were listed on the official Rare Disease Day website.
The international communications campaign:
Our online interaction also continued to grow. On the website we received:

even more friends of Rare Disease Day. All stakeholders showed their participation in building awareness to help people living with a rare disease;
more 'Raise and Join hands' photos of people showing their solidarity for the cause;
and more people, friends and family living with a rare disease telling the world about their story on our 'Tell Your Story' feature, through their videos, pictures and written stories.
 

This year saw the launch of the new site for smartphone users. The number of mobile phone visitors continues to increase on rarediseaseday.org, with a peak of 60% of all visitors on 28 February viewing from a smartphone.
Visitors to the Rare Disease Day website stayed longer and viewed more pages than in 2014. Overall site visits were up almost 20% during the 100 days to Rare Disease Day.
 
Our social media reach grew significantly. The Rare Disease Day Facebook page now has 58,000 likes, with a reach of more than 7 million users; Rare Disease Day Twitter reached nearly 13,000 followers; and we have 1,706 supporters on Thunderclap and have reached over 1,220,403 users.
Rare Disease Day received lots of fantastic media coverage; find out more on our media page.
The EURORDIS Rare Disease Day event in Brussels, which was open to the public:
Over 150 people attended; touching and inspiring testimonies were given by patients representatives.
Speakers included Vytenis Andriukaitis, European Commissioner for Health and Food Safety, and Philippe De Backer, a Belgian MEP.
People from 30 different countries tuned in to the live event online, and over 800 tweets were exchanged during the event on #RareEU2015. Watch the event on EURORDIS TV.
See photos from events in: Algeria, Australia, Austria, Bahrain, Bolivia, Canada, Croatia, Czech Republic, Egypt, Ecuador, France, Georgia, Greece, Guatemala, India, Iran, Italy, Lebanon, Macedonia, Mexico, Morocco, Philippines, Romania, Russian Federation, Slovakia, South Africa, Spain, Sweden, Thailand, United Kingdom, United States, and Vietnam.
More information for this eighth edition