Overview of Rare Disease Day 2014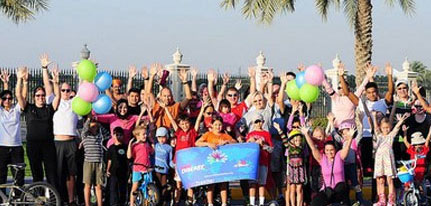 We hit a new mark: participation in 84 countries with 410 events worldwide! Patient organisations from 9 new countries participated for the first time this year: Cuba, Ecuador, Egypt, Guinea, Jordan, Kazakhstan, Kenya, Oman, and Paraguay.
244 Friends of Rare Disease Day
Over 138,000 unique visits to www.rarediseaseday.org in the last 4 months (compared with 79,000 last year for the same period), and 50,000 views on Rare Disease Day!
The official Rare Disease Day video was translated into 21 languages and received over 67,000 views
Our Facebook community grew significantly this year jumping to 40,000 likes
The 'Tell your Story' feature allowing visitors to upload their stories, photos and videos has been a great success - over 140 stories being written
Thousands of people responded to our call to 'Raise and Join Hands' campaign - Look at the photos here
Over 100 people attended the EURORDIS Policy event in Brussels. Watch the videos of the event here
Great media coverage all around: print, electronic, radio and television! Find out more on our Rare Disease Day Media page
Rare Disease Day 2014 Official Video
See photos from events in Romania, Bahrain, Austria, Canada, Georgia, Guatemala, India, Latvia, Macedonia, Mexico, Philippines, Russia, Slovakia, Slovenia, South Africa, Turkey, United States, Vietnam
More information for this seventh edition
Send us your information at [email protected].